Shipyard Facilities
& Equipment Overview
What sets the Sumidagawa Shipyard Company apart is its holistic approach. We undertake everything from design to manufacturing, making us a unique one-stop "shop" in the shipbuilding industry.
In the shipbuilding industry, where division of labor (sectionalism) is common, our approach provides a rare opportunity to make it possible
to directly respond to the customer's needs while creating
an environment that promotes a rapid turnaround.
Specifications consult

Based on the customer's specifications (size, gross tonnage, sailing speed), the quality of the ship, hull form, main engine, etc. are determined.
Design & Procurement

Based on the specifications move to the design of the hull, piping, electricity, etc. Once completed, orders are placed with manufacturers based on the drawings.
Cutting & Processing

The procured steel or aluminum sheets are cut (or pressed) using NC plasma cutting machines to produce the necessary parts.
Assembly

As the components are assembled, they are welded together to create the hull and on deck structures.
Launch

Once the hull is completed and painted the ship is ready for launch. In some cases, a launching or christening ceremony is held.
Rigging

After the launch, outfitting is completed, including the installation of on-board equipment, along with finishing the interior and other finalizing work.
Trial run

To test the performance of a completed ship the vessel is put through its paces on the open water in order to conduct any tests required by governing regulations.
Final Completion
& Delivery

Final adjustments and finishing touches are made to each piece of equipment and the ship is handed over to the owner.
Plant
No.1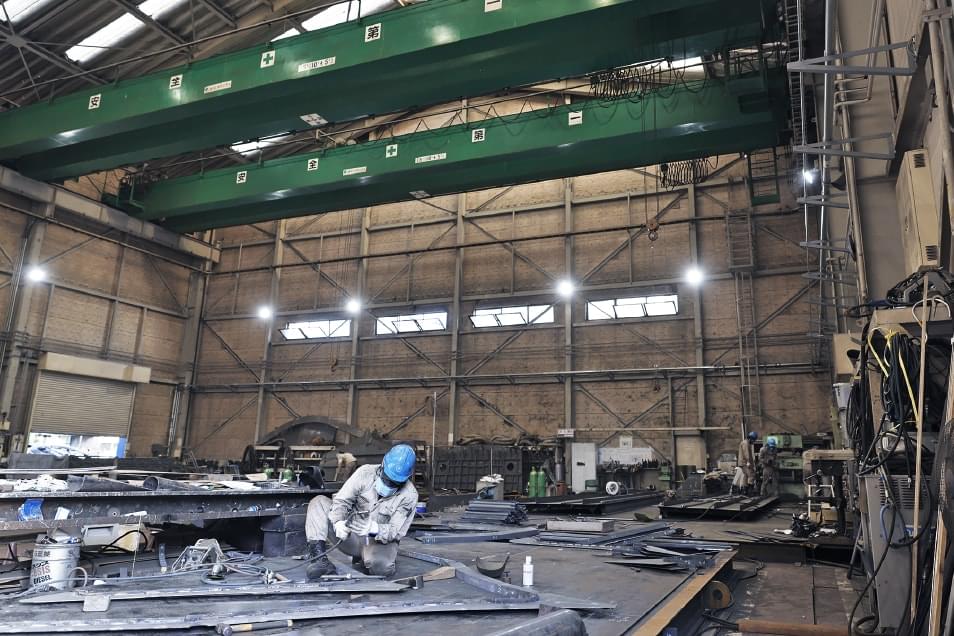 - Lifting Slipways (No.1 to No.3)
- 48m x 7.6m
- Maximum build capacity at 499 G/T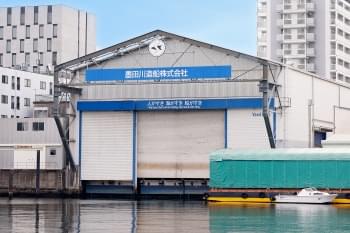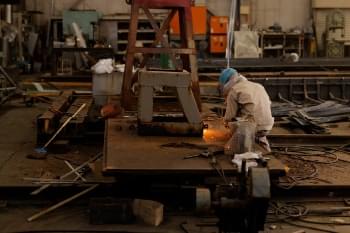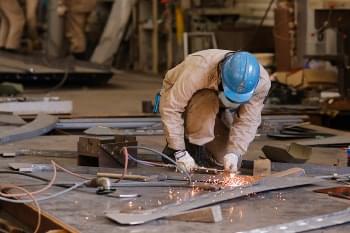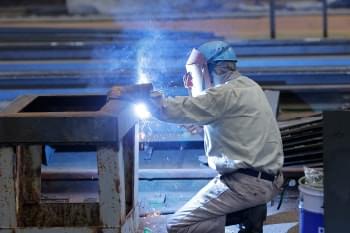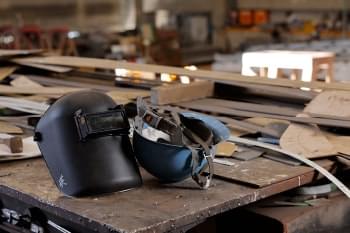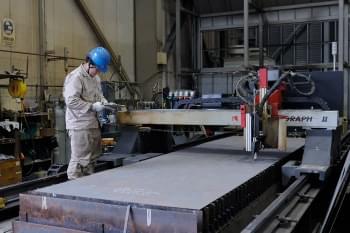 - Lifting Slipways (No.1 to No.3)
- 48m x 7.6m
- Maximum build capacity at 499 G/T
NC Plasma Cutting Machine

This machine is used to cut steel, aluminum, stainless steel and other materials needed to create the ship's framework and manufacture the hull of a ship.
By deploying digital programming, the process is automatic, safe and accurate.
Jib Crane

A device installed on a wharf for the mooring and loading/unloading of ships.
A jib crane is installed in each factory, and the one now at our first factory site is a new replacement of the original which had been in use for 50 years.
Plant
No.2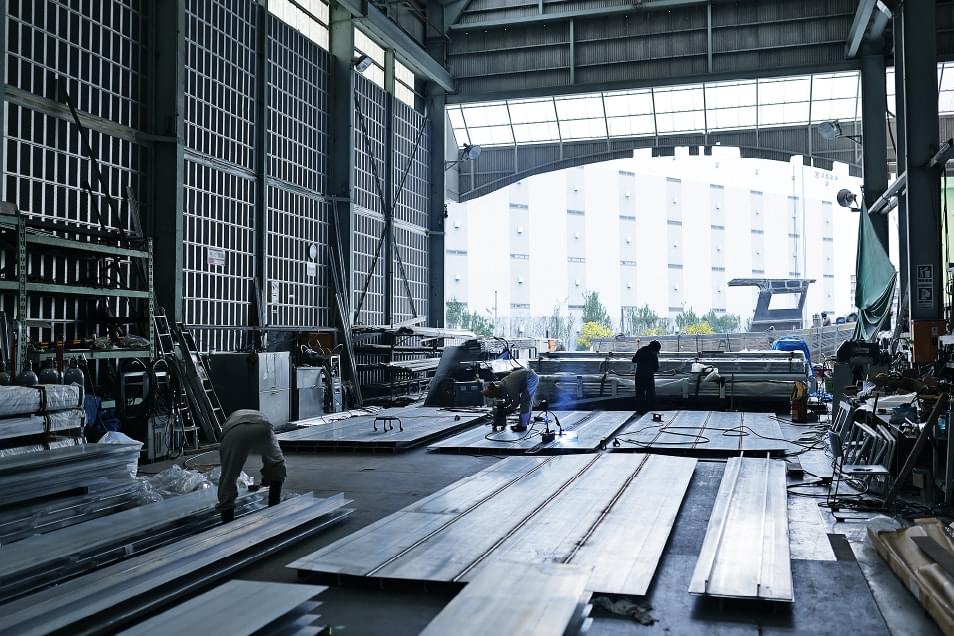 - Bunk (Nos.5-6 bunks)
- 48m x 12.2m
- Maximum build capacity at 490 G/T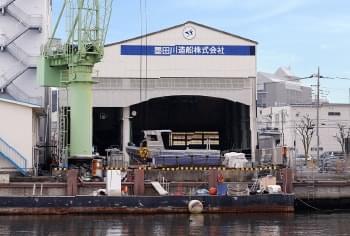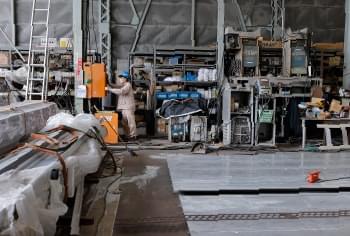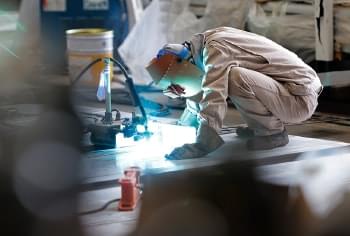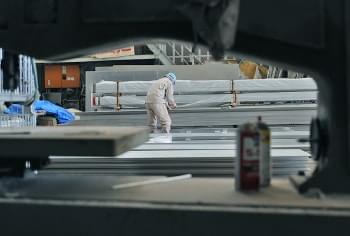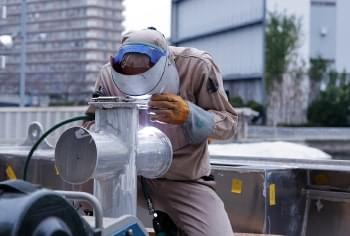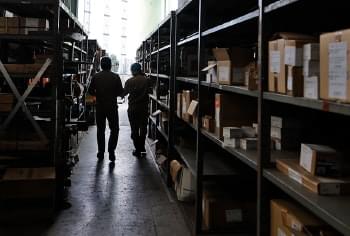 - Bunk (Nos.5-6 bunks)
- 48m x 12.2m
- Maximum build capacity at 490 G/T
Sumida 100
(No.7 barge)

It is of concave shape, and after the ship is built, water is let into the dock to sink it.
Following this a device is used to drain the water inside and float the vessel.
This dock was added for our 100th anniversary and is showpiece for the Sumidagawa Shipyard Company.

Sumidagawa Shipyard Co., Ltd. is certified company that has acquired the international unified standard for Quality Occupational Safety and Health Management System for the design, development, manufacture and repair of merchant ships and government vessels.

"Management System Certification"
Quality Management System (QMS, ISO 9001)
Occupational Health and Safety Management System (OHSAS, ISO 45001)